Skis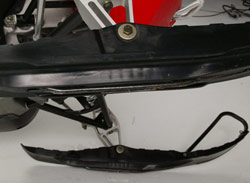 Skis with Wear Bars (Skags)
Skis guide a snowmobile's forward momentum and turn the machine when the operator turns the handlebars. They may be made of metal or plastic. Like a car's front tires, skis must be maintained and kept in proper alignment. If out of alignment, it will be difficult to steer the snowmobile.
To check alignment, place the machine on a solid surface and turn the handlebars straight ahead. Measure the distance between the skis at the front and the rear. Refer to the owner's manual for proper ski alignment and have adjustments made by a qualified person.
Wear Bars (Skags)
Wear bars are replaceable steel runners or carbides bolted under the skis. They are essential for steering the snowmobile; without them you'll slide off the trail when turning corners. If you have problems steering or controlling your snowmobile, check the wear bars to ensure they are functioning properly and not worn out. Wear bars should be inspected and replaced often to reduce the chances of a crash and to prevent damage to the skis caused by abrasive surfaces.